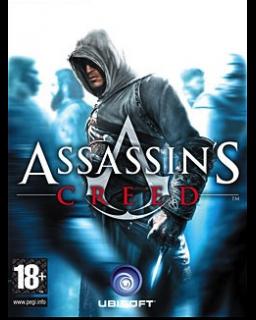 Jeruzalém, léta páně 1191 - kruté časy Třetí křížové výpravy. Ulice zatím překypují čilým ruchem, avšak vše se změní. Ubisoft Montreal nám nabízí příběh v roli Alta?ra ibn La-Ahada. Začínajícího asasína v nově vzniklém řádu vrahů. Naplánujte útok, bez smilování udeřte a dostaňte se pryč. To je ve zkratce Assassin´s Creed. Na pozadí se rozbíhá druhý příběh, který je ovšem ten důležitější.

Mladý Desmond Miles je unesen podivnou organizací, která ho za pomoci přístroje zvaného Animus posílá do snů, kde díky genové projekci nutí Desmonda, aby znova prožíval život svého předka. Alta?r byl u konce Třetí křížové výpravy, kdy pomohl dojednat dohodu mezi Saladinem a Richardem Lví srdce. Musel zastavit Roberta de Sable a ví, kde bylo ukryto jablko. Vzácná relikviet zvaná také Pieces of Eden. A právě o to oné organizaci jde.

Jde totiž o přeživší Templáře. Zjišťujeme tak, že válka ani zdaleka neskončila. Hru mnozí přirovnávají k mixu Prince a Hitmana. Otevřený herní svět. Hrdina bude smět vylézt na jakoukoliv budovu nebo věž. Po vzoru Prince of Persia nemůže chybět ani skákání po zdech a provádění šílených akrobatických kousků, přičemž novinkou bude třeba využití koně, abyste dosáhli na jinak nepřístupná místa.


Ihned
---
Dodáme ihned po přijetí platby.
3 Bonus body
---
Pomocí bonus bodů získáte slevu na další nákup.
Anglická mutace
---
Produkt je dostupný v anglické lokalizaci, neobsahuje češtinu.
UPlay
---
Produkt je určen pro platformu UPlay.
---