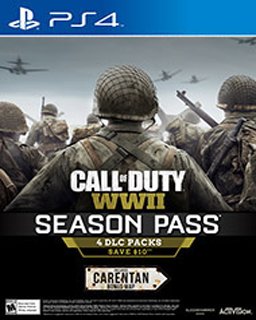 Klíč je možné použít pouze s českým (CZ) PlayStation Network účtem.
Zažijte plnohodnotné divadlo války s Call of Duty®: WWII Season Pass. Pokračujte v epické cestě se 4 balíčky DLC v roce 2018, které obsahují nové a ikonické Mapy pro více hráčů, nové kapitoly nacistických zombie a zcela nových válečných misí. Zahrnuje také mapu bonusů "Carentan"! Carentan, jeden z nejoblíbenějších map Call of Duty® pro více hráčů, přináší návrat Call of Duty®: WWII. Boj přes zničené budovy a protěžované ulice tohoto francouzského města, roztrhané válkou, v celkovém boji za a strategická německá tvrz. Všichni držitelé sezónních průkazů obdrží tuto ikonickou mapu při startu. Tento sezónní průchod vám umožní ušetřit peníze na obsah. Obsah je možné stáhnout z hry nebo z hry PlayStation®Store, pokud je k dispozici.
Body lze uplatnit pouze pro hru Call of Duty WWII na PS4! Pro aktivaci je nutné vlastnit základní hru Call of Duty WWII v platformě Playstation 4!
Do 24H
---
Produkt vám bude doručen nejpozději do 24H. Běžně do 2H.
15 Bonus bodů
---
Pomocí bonus bodů získáte slevu na další nákup.
Česká mutace
---
Produkt obsahuje také český dabing nebo titulky.
Playstation
---
Produkt je určen pro platformu Playstation.
---