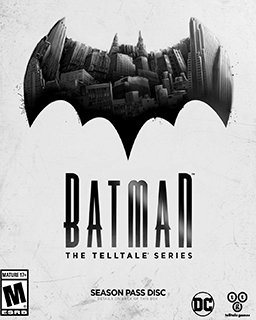 Vstupte do poškozena psyché Bruce Wayna v tomto temném, násilném příběhu a objevte mocné a hluboce sahající důsledky vašich voleb v roli temného rytíře. V roli Batmana potkáte klasických spojenců a nepřátel, a jak Bruce se naučíte skutečný význam toho, co to znamená stát se mužem skrývajícím se za pláštěm superhrdiny. Hra Batman: A Telltale Series obsahuje první epizodu a zaručí přístup ke zbývajícím čtyřem epizodám, které budou postupně dostupné ke stažení. V tomto realistickém a brutálním příběhu od tvůrců cenami ověnčeného The Walking Dead: A Telltale Games Series , uděláte odhalení, které rozbijí břicho svět a křehkou stabilitu zkorumpovaného Gotham City. Rozhodněte o osudu Gotham City. Rozhodněte se o osudu Bruce Wayna a osudu jeho temné osobnosti, Batmanovi. Vaše rozhodnutí píší fascinující nové kapitoly v komplexních životech industriálního playboye a samozvaného strážce zákona. Získejte hru již nyní a staňte se prvními, kteří budou mít přístup k novým epizodám!
Ihned
---
Dodáme ihned po přijetí platby.
4 Bonus body
---
Pomocí bonus bodů získáte slevu na další nákup.
Anglická mutace
---
Produkt je dostupný v anglické lokalizaci, neobsahuje češtinu.
Steam
---
Produkt je určen pro platformu Steam.
---