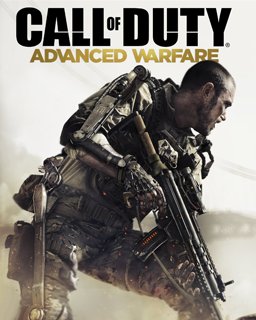 Call of Duty: ADVANCED WARFARE se odehrává v blízké budoucnosti, v níž vojáci maximálně využívají technologické vymoženosti, ať už ve zbraních a nebo v taktice boje. Většina zemí už nemá vlastní armádu a bezpečnost řeší pomocí soukromých vojenských korporací. Jonathan Irons je zakladatel a prezident největší vojenské korporace na světě - ATLAS corporation, která je v pozadí celého příběhu.

Moc a peníze podle něj mohou změnit cokoliv.

Vojáci v budoucnosti jsou vybaveni výkonným exoskeletem (brněním) EVOLVE, které vylepšuje vojáka ve všech aspektech boje, zvyšuje jejich odolnost, sílu a eliminuje potřebu specializace vojáků (známou z předchozích dílů Call of Duty).

Tento mechanizmus nejen že hráče informuje o dění na bojišti, ale umožní využívat superskoky, uchycení tam, kde by to normálně nebylo možné, maskování a díky biomechanice také neskutečnou sílu, vytrvalost a rychlost.

Hru vyvíjelo studio Sledgehammer Games (podíleli se např. na vývoji Modern Warfare 3) už od doby, kdy byly známy možnosti nových herních konzolí. Hra vás pošle na bojiště v budoucnosti, kde budete využívat nejmodernější bojovou techniku a taktické prvky. Příběhem vás bude provázet herec Kevin Spacey, který si zahraje roli Jonathana Ironse.

Call of Duty: ADVANCED WARFARE přenáší hráče na bitevní pole budoucnosti, kde budou moci využít nové Hi-Tech zbraně a schopnosti. Vyzbrojí vás novými vozidly, vznášedly a drony. Hráči si také mohou vybrat mezi klasickou municí a energetickými zbraněmi. Exoskeleton poskytuje obrovské zvýšení síly a bezprecedentní taktickou svobodu.




Ihned
---
Dodáme ihned po přijetí platby.
4 Bonus body
---
Pomocí bonus bodů získáte slevu na další nákup.
Anglická mutace
---
Produkt je dostupný v anglické lokalizaci, neobsahuje češtinu.
Steam
---
Produkt je určen pro platformu Steam.
---